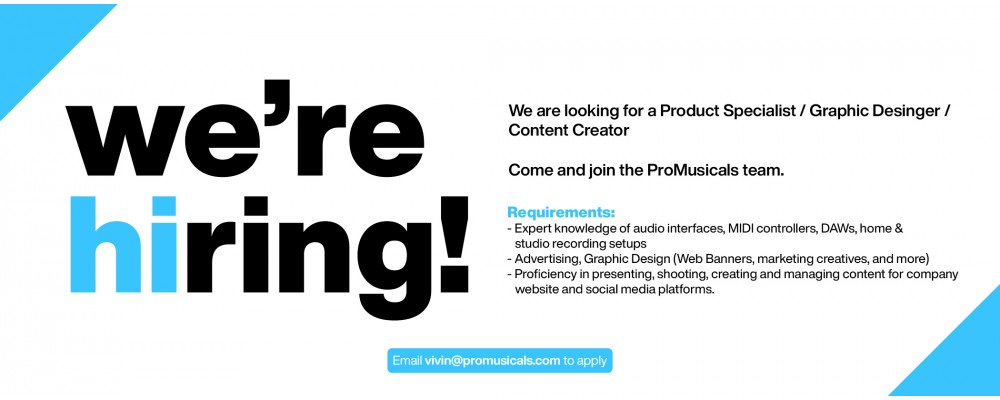 ProMusicals: We're hiring!
Job Brief:
We're looking for a driven, detail-oriented digital content creator to produce various high-quality outputs for the company. The objective is to promote the companies' products and services by developing content for websites, social media, marketing materials, and other platforms. The content creator will update existing material, generate novel work, and identify new ways to reach consumers. You should also contribute to the shaping of our stylistic guidelines.
Ultimately, you will help us reach our target audience by delivering both useful and appealing online information about our company and products.
Roles and Responsibilities:
Graphic Design:
Ideate campaign strategies
Create product/sales banners
Create marketing material for social media (posts, stories, etc.)

Social Media:
Content Creation - Reels, Stories, Product Campaigns, etc.
Schedule of content
Publish Content on various social media platforms
Manage ProMusicals Partner social media pages
Website Management:
Update website banner images.
Create/manage blogs
Online Order Management (B2C information management)
Update product information (images, description, etc.)
Email Marketing:
Schedule & Create email content (newsletters, copy, etc)
Customer Engagement:
Maintain communication on customer queries
Handle product queries (pre & post sales)
Skills and Qualification:
• A strong portfolio showcasing your ability to create strong and engaging content with an exceptional sense of aesthetics and design.
• Proficiency in photo/video editing.
• Should have good time management and the ability to work with tight deadlines.
• Knowledge of music production tools & equipment is a big plus.(Eg. Daw's, MIDI Controllers, Audio interfaces, and more)
NOTE: Please include a link(s) to your portfolio of work on the resume/CV you submit
Get to know us better:
Visit our website: https://www.promusicals.com/
Check out our Instagram: https://www.instagram.com/promusicals/?hl=en
About us: https://www.promusicals.com/about_us